Here at HyperSense Software, we know it can be challenging to think of innovation when you're bouncing back from a period of harsh financial depletion. That's where we can help! We create solutions aimed at driving revenue and streamlining the process. The best part is we do all of the heavy liftings for you, so you can spend your time on other pressing business operations. We specialize in strategic app planning, design and development iOS, Android and Web applications, user testing, QA, DevOps, Big Data, and IoT, just to name a few!
In recognition of our success and impact, we've been recognized as a top app development firm in Romania by Clutch, a business marketplace. Their work helps companies across the globe find ideal partners for their latest business projects.
We couldn't have earned this award without the help of our wonderful clients. They took time to engage with Clutch and assess our value. In a 15-minute review call, we were graded on the basis of our customer service, quality, attention to deadlines, fairness of pricing, and overall project management skills. We're happy to report we've earned a wonderful 4.8 out of five stars!
Take a look at a recent review below: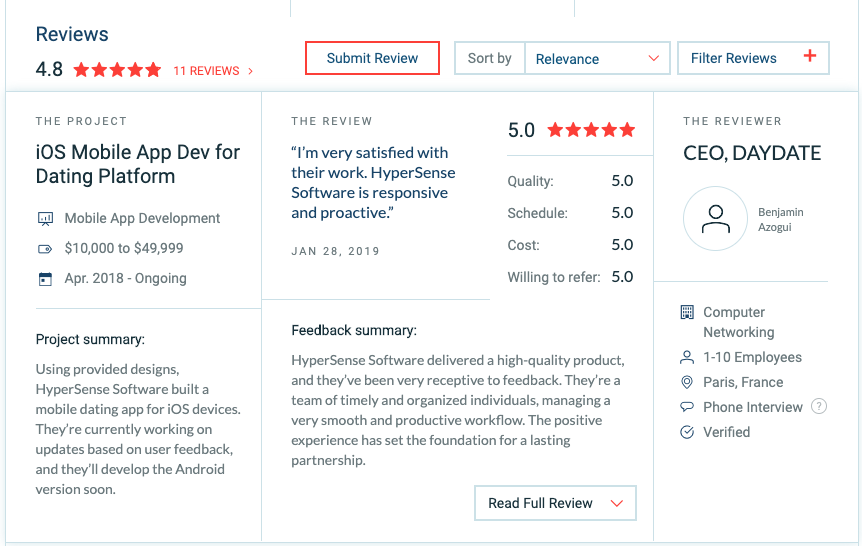 "We are very happy to be chosen as one of the top web development companies in EU by Clutch."
– Andrei Neacșu, CTO of HyperSense Software
You can also learn more about our services on Visual Objects, a company portfolio resource. They list us among their top app developers in Romania!
We're thrilled to receive this award, but we're still dedicated to providing exceptional service at a reasonable price point. Interested in learning what makes us better than our competitors? Drop us a line today!